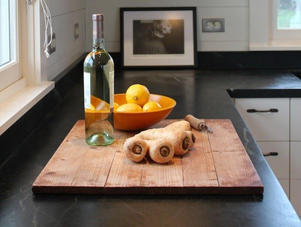 There are many choices available for countertops, including granite, marble and quartz. While granite and quartz are great for durability and variety of color, and marble for its beauty, soapstone is a great option for its resistance to chemicals and stains.
Soapstone has three properties that set it apart from other natural stones, and make it a great countertop material:
1. It doesn't stain. Soapstone is dense and nonporous; it does darken when liquid pools on its surface, but it lightens back up when the liquid evaporates or is cleaned off.
2. It can stand up to acidic materials. The fact that soapstone is chemically inert means it's not harmed by lemon juice or cleaners that must be avoided with other natural stone surfaces.
3. It's heat resistant. The density of soapstone makes it an amazing conductor of heat, which enables it to withstand very high heat with no damage. You can put hot pans right on the surface without worry about scorching or staining.
Durability:
Soapstone is soft and susceptibility to scratches and nicks. It's durable like granite and marble, but it's more forgiving under stress; soapstone has a tendency to dent rather than chip or crack.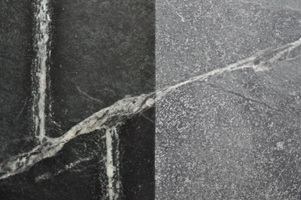 Color Enhancing:
Soapstone fresh from the quarry is light gray in color. That rich charcoal color soapstone is known for comes when the stone is exposed to water, grease and oils. These liquids cause the stone to oxidize, which darkens the stone's color and really brings out its natural beauty. To help expedite oxidation of the stone, we recommend that you treat it with mineral oil from time to time. This treatment will keep oxidation uniform across the entire surface.
For more information, give Mara, our sales manager, a call!