Many people assume that natural stone is a permanent material that does not need maintenance or care. After new stone is installed, permanent damage often occurs from neglect, incorrect cleaning methods and using chemicals that are not formulated for stone care. We have listed common practices for countertop care below to use as a guide for maintaining your natural stone countertops. Remember to always follow manufacturer's instructions carefully for any stone cleaners or sealers.
Granitech offers professional-grade sealers and cleaners available for purchase.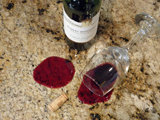 Stone Care "Do's"
• Use coasters under glasses, especially if they contain alcohol or citrus juices
• Use trivets or mats under hot dishes or cookware
• While granite is highly scratch-resistant, we recommend you do use a cutting board
• Dust countertops, islands, vanities and floors frequently
• Blot up spills immediately to minimize permanent damage to the stone
• Clean surfaces regularly with neutral cleaners designed for stone



Stone Care "Don'ts"
• Use vinegar, bleach, ammonia, other general purpose cleaners, bathroom cleaners or tub and tile cleaners
• Use abrasive cleaners such as dry cleansers or soft cleansers
• Use alkaline cleaners not specifically formulated for stone
• Leave hot pans sitting on the counter 
• Stand on your countertops

Maintenance Cleaning in Common Stone Locations
Countertops and Vanities
Use a neutral stone cleaner on a regular basis to remove residues from cooking oils and everyday food spills, as well as hairspray or other cosmetics. Be careful with common foods and drinks that contain acids that may etch or dull the stone surface. Be aware that some common toiletries (i.e., perfume, toothpaste, mouthwash) contain acids and other ingredients that may damage the stone surface or degrade the sealer.
Bath, Other Wet Areas, Floors and Walls
Periodic use of a neutral stone cleaner will remove any dirt and residue, or help prevent any soap scum or hard water deposits that may have formed. In the bath, or other wet areas, using a squeegee after each use can minimize soap scum and hard water deposit buildup.